EMC Titan LWB 2 Seat Short Tray Utility
Note: Vehicle pictured may include optional extras available at a cost.
EMC Titan LWB 2 Seat Short Tray Utility
A great recommendation for security use.
We can offer 3 different models:
Titan SWB 2 Door Sedan
Titan LWB 4 Seat Sedan
Titan LWB 2 Seat Short Tray Utility
The vehicles are fitted with doors, laminated glass windscreen, electric wiper, head and tail lights and turn indicators.
Description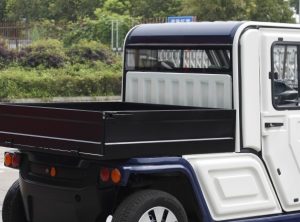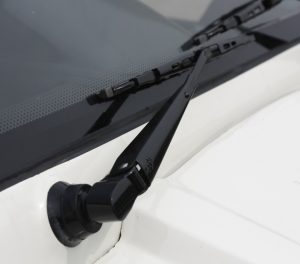 This 2 seat electric vehicle offers the perfect combination of toughness and efficiency to meet your mobility needs.  Ideal applications include any airport, sports grounds and stadiums, resorts, hotels, tourist attractions and other commercial complexes.
Standard Features
KEY COMPONENTS AND PERFORMANCE
Motor: 7.0 kW AC Electric
Power Source: 72v Deep Cycle TROJAN Batteries
Controller: Programmable Curtis Controller
Motor Type: Shunt Wound
Battery Charger: Integrated Delta-Q On-Board Smart Charger
Max Speed: Pre set to 20 km/h
Max Charge Time: 8 hr
Range (Loaded): > 90 km
Turning Circle: 5.0 m
CAPACITY
Seating: 2 Seats
Vehicle Weight: 975 kg
Utility Tray Carrying Capacity: 150 kgs
DIMENSIONS
Overall Length: 3190 mm
Overall Width: 1500 mm
Overall Height: 1720 mm
Ground Clearance: 170 mm
Utility Tray Dimensions: 1200 mm L x 1320 mm W x 305 mm H
Utility Tray Type: Non Tipping | Painted Metal | Solid Panel Sides | Drop Down Tailgate
BODY AND FRAME
Chassis / Frame: Powder Coated Welded Steel
Body: Fibreglass and Plastic
Roof: Fibreglass
Windshield: Laminated Glass with Twin Wipers
Doors: Steel Frame, Plastic Inserts and Sliding Windows
STEERING AND SUSPENSION
Steering: Single-Stage Rack and Pinion Steering System. Automatic Rocker Compensating Function
Front Suspension: Independent Suspension, Helix Spring and Shock Absorber
Rear Suspension: Semi Independent – Torsion Beam
Brake System: 4 Wheel Hydraulic – Front Disc – Rear Drum
Park Brake: Hand Brake
Laminated Glass Windscreen
Headlights – Low/High Beam
Tail Lights, Blinkers, Horn Speedometer/ Odometer/ Battery Gauge
14.5″ Alloy Wheels
2 Point Seat Belts
2 x Side Mirrors
12v Outlet for Accessories
Optional Extras
Air Conditioning – Cooling and Heating
Reverse Camera
Lead Crystal or Lithium Battery Upgrade Kit
3 Point Retractable Seat Belts
Amber Light Bar with Siren and Microphone
Fire Extinguisher
Corporate Branding
Single Point Watering System
Roof Racks
Flashing Amber Beacon
Adjustable Front Seats
Audio Unit
Delivery
Delivery can be arranged Australia wide – excluding WA.
Lead time depends on stock available at time of ordering.  Usually 2 – 3 weeks.
Product Summary
EMC Titan LWB 2 Seat Short Tray Utility
Note: Vehicle pictured may include optional extras available at a cost.
EMC Titan LWB 2 Seat Short Tray Utility