EMC ELITE LWB 6 SEAT RESORT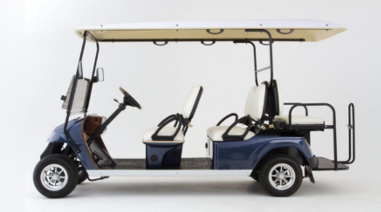 Note: Vehicle pictured may include optional extras available at a cost.
EMC ELITE LWB 6 SEAT RESORT
One of our biggest selling models, this 6 seater vehicle is suitable for resorts, retirement villages, caravan parks, airports, theme parks/zoos, universities, hospitals; in fact anywhere when people need to be moved.
Description
Cart comes with full roof, however no roof model available for indoor use.
The rear seat converts into a cargo bed/tray.
This vehicle can be fitted with a lift kit, larger 12″ wheels, off-road tyres, glass windscreen, electric wiper and an upgraded 5.3kW motor as standard, allowing for the vehicle to operate in most terrains and is suitable for private or commercial use: EMC Elite High Clearance LWB 6 Seat Resort.
If you require an 8 seat resort vehicle, then the EMC Elite XLWB 8 Seat Resort is the one for you.  Designed for transporting 8 passengers and once the rear facing seat is converted into the cargo bed, it will transport 6 passengers plus items.  This vehicle is fitted with an upgraded larger 5.3kW motor and comes with a laminated glass windscreen with electric wiper – as standard.
Standard Features
5.5HP DC Motor (4 Kw motor)
48 V Deep Cycle Trojan (or US Batteries)
400 amp American Curtis programmable electronics controller with regenerative braking
On board Charger
Split-fold windscreen
Head Lights, tail lights, blinkers, horn and reverse beeper
10″ Kenda Tyres
Glove Compartment
4 Cup / Drink holders
12V Outlet for accessories
Dash in wood finish or black
Optional Extras
Weatherproof clears
Safety orange flashing light
2 Point seat belts
Single point battery watering system for ease of battery maintenance
2 x Side mirrors
Roof rack
Lead crystal battery system
Custom/corporate colours
Vehicle wrapping
Delivery
Delivery can be arranged Australia wide – excluding WA.
Lead time depends on stock at time of ordering.
Product Summary
EMC ELITE LWB 6 SEAT RESORT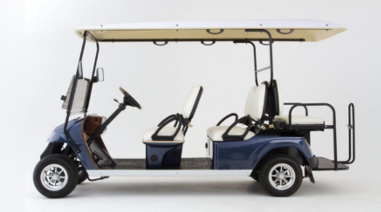 Note: Vehicle pictured may include optional extras available at a cost.
EMC ELITE LWB 6 SEAT RESORT