BWT – Battery Watering Technologies – Hand Pump (only)
$122
BWT – Battery Watering Technologies – Hand Pump (only)
$122
Description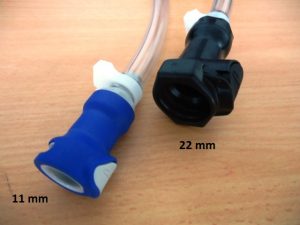 BWT Hand Pump – for use with single point filling system golf cart.
NOTE: BWT Blue connection has an 11 mm opening.  If you have a larger male connection on your fill kit, we also have Black 22 mm connector to fit.  Please nominate if you require the larger connection, otherwise the standard BWT 11 mm size will be sent.
Maintenance and regular watering are essential practices to ensure the performance and life of your golf cart batteries. Battery maintenance can be a timely and messy essential job.
Introducing the latest in battery maintenance technology – the BWT (Battery Watering Technologies) Hand Pump used with your Single Point Battery Filling System.  Ensure ease of fill for your batteries and the assurance that they have been filled correctly.
Simply place open tube in bottle of battery water, fit the other end onto your your single point kit, hand pump a few times and gravity allows your batteries to fill correctly with no overflow.
Price including GST $122.00 – Post Australia wide (Australia Post tracking) $12.00.
Qld Golf Carts are very pleased to advise that we have been officially notified that we are now the Sole Australian Distributor of BWT single point battery filling systems and other battery maintenance products.  We have your needs covered.
Product Summary
BWT – Battery Watering Technologies – Hand Pump (only)
$122
BWT – Battery Watering Technologies – Hand Pump (only)
$122